Accreditation and Compliance
Accreditation ensures quality

OccuMED clinics have been assessed and certified by Compass Assurance Services to ISO 9001:2015 Quality Management System.
The scope of certification covers the following activities:
Specialist provider of occupational medicine services which encompasses the end to end employment lifecycle of an organisation's workforce
Pre-employment, periodic, industry medicals, health surveillance/biological monitoring, injury management treatment, independent medical examinations and consulting services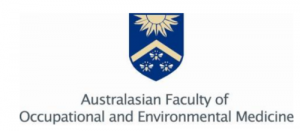 OccuMED clinics have been granted AFOEM Workplace Accreditation (FULL) for Occupational & Environmental Medicine Training Settings.
The OccuMED quality assurance is in addition to the standard registration, professional affiliation and continual professional development requirements of AHPRA (Australian Health Practitioner Regulation Agency); AFOEM (Australian Faculty of Occupational and Environmental Medicine) and ANZSOM (Australian and New Zealand Society of Occupational Medicine).
This is in addition to additional industry related and other accreditations including:
Approved Medical Specialists
AMS: WorkCover WA Approved Medical Specialists
AHP: Authorised Health Professional – Rail Industry
OGUK: Oil and Gas UK Approved Doctor
DAME : Designated Aviation Medical Examiners
MRO: Medical Review Officer
Compliance means you can rely on us​
The OccuMED team embrace and respect the need for compliance. Government and industry guidelines and requirements are based on the need to provide safe and functional working environments for employees. Our services delivery is based on meeting compliance requirements and we are able to guide your internal health systems and processes on your companies processes and systems to ensure you are also compliant with the related requirements.
The OccuMED teams services are compliant with the Department of Health requirements because our service delivery engages:
Consultant Occupational Physician
Visiting Emergency Medicine Consultant (Dr Adrian Goudie)
Consultant Pharmacist (Mr Edward Djayawinata)